The time finally arrived and Steel City RC Speedway is here. The opening round at this great facility saw the location host the Inagural Protoform Grand Prix and we thank them for letting the 5th Scales compete. While everyone was fine tuning or searching for the correct setup one person arrived and seemed good out the gate. Victor Garcia would grab TQ for the event with a quick lap of 22.040 during his qual run but then snagged a 21.927 in the main. Craig Kaplan would qualify 2nd and Cedric Collins 3rd. But getting the TQ doesn't mean you get a walk for the win. You gotta be there in the end, just ask Kaplan who had a horrendous start and spent much of the first half of the race battling for 4th or 5th. Your podium for the Protoform G.P.: 1) Craig Kaplan, 2) Frank Pena, 3) James Stuard.
5th Scale International at Miami Homestead
The Drivers from the 5th Scale International GP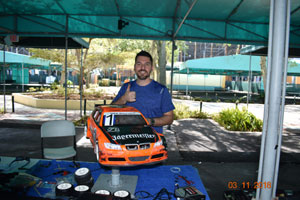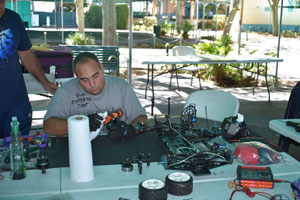 Results
You couldn't beat the atmosphere of being at Miami-Homestead. While working on your car and setup you were treated with the sounds of Shifter Karts in the morning, Trackday with the motorcycles in the afternoon and sportscars after that. I think everyone there had a good time at the event. Even with playing Russian Roulette with the weather. The event was officially scaled down to 3 days instead of 4 due to another event at the track but we were able to get some track time in late Thursday.
| | |
| --- | --- |
| This worked out for those that had to reassemble their cars from travel. With the rubber starting to lay a foundation from Thursday and Friday and with track prep Saturday lap times were steadily dropping. By the time qualifying started the track was in great shape and it would be World Champion Santiago Meirinhos with the fastest lap of 21.535, that pace also grabbed TQ for the Champ. | |
Only two other drivers were able to crack the 22 mark. Race promoter George Velazco with a 21.746 and Jorge Ali with a 21.805. The race format was a little different than what some of the Americans were used to, if you weren't the fastest two you slotted in to where your best time put you. For the typical American Club and even some bigger races you got the top 8 into the show, not with this style. While giving you another race to run, you had another shot to improve your starting position or completely blow it, that's racing. With bump ups from the C Main, the remaining 8 drivers for the A Main would come from the B.
| | |
| --- | --- |
| | The race starts and before you can even get to the loop two racers are out on two different issues. Your second place qualifier George Velazco and 6th place qualifier Cedric Collins. The scramble up front left your pole sitter Santiago in the back with a lot of work to do. Santiago would make it up to 6th but withdrew from the race with assumed mechanical issues. This left Jorge Ali all alone as the only driver left in the field to crack 22. He went from 2nd to first within the first few laps and never looked back. |
Your Top 10 from the International G.P.

Videos

A Main


B Main


C Main


Thanks to Samuel Bronson for the Pics

---
The Big News for California is the opening of Steel City Speedway at Fontana Speedway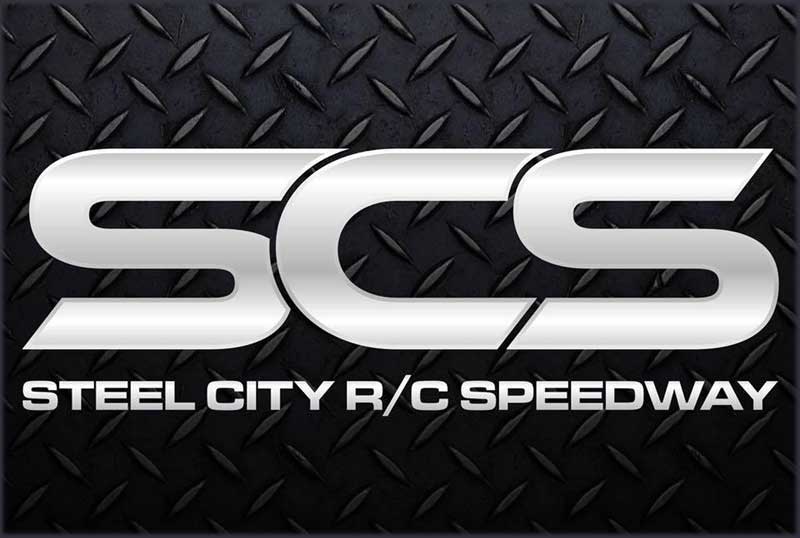 Click the image for the track info and schedule
The RAMS

Are back for a full season, click the image for the site